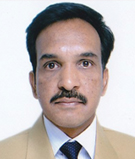 From the desk of Director
Dear Students,

Indian Pharmaceutical Industries are rapidly growing sector which stand the third largest industries among the world in drug manufacturing. Students should have the basic knowledge about the drug, its manufacturing, and its uses in different area. Proper knowledge of medicine makes our community healthier which is very important for the growth of our country. To fulfill this dream we promote high quality education, training and research in Pharmaceutical science, produce competent pharmacist with entrepreneurship and innovative skills. In Royal College of Pharmacy Science, the environment of study is very disciplined which motivates each student to work hard & to develop self confidence and a winning attitude. So many students of this college giving their services in reputed pharmaceutical industry as well as in government sector. I wish good luck to the selected students and hope for their bright future.


"Impossible is just an opinion. If you change your opinion everything is possible."
With best wishes ……..
Kamal Chandraker
( B.Sc. , B. Pharm)
Director,
Managing Committee